Browse using the new Vinous website now. Launch →
Printed by, and for the sole use of . All rights reserved © 2015 Vinous Media
2012 Bordeaux: Messages in a Bottle
Pessac-Léognan and Pomerol are without question the stars of Bordeaux's 2012 vintage. Saint-Emilion follows, along with Lalande de Pomerol, Fronsac, and some of the lesser-known Right Bank appellations, where high quality and value increasingly go hand in hand. Readers will have to be selective in a year that is variable across the board, but there is plenty to like in 2012.
Two thousand twelve is the best of the three vintages that follow the epic 2009s and 2010s. Broadly speaking, the 2012s are surprisingly open and accessible, with forward fruit and generally mid-weight structures. Many wines will drink well with minimal cellaring, but a few also have the potential to age well.
I encourage readers to look beyond Bordeaux's most famous names. Of course, those wines are of great interest, and they should be, as they are the benchmarks of excellence. But Bordeaux is about more than just several dozen highly coveted wines. As I put the finishing touches on this article in California I am once again reminded of how many fairly priced Cabernet Sauvignon and Merlot-based wines can still be found in Bordeaux. That will be even truer of wines being sold out of Europe today given the current strength of the US dollar.
See the wines by region
St Estephe, Pauillac, Margaux, St. Julien, Pessac-Leognan, Pomerol, St. Emilion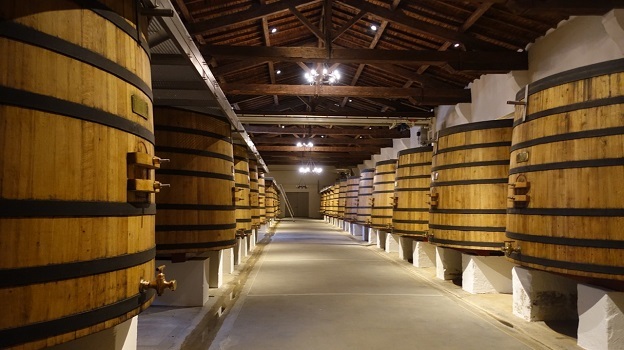 Wood fermentation vats, Château Margaux, Margaux
The 2012 Growing Season
The year started with a very mild winter, the last remnant of the 2011 vintage, with temperatures in December 2011 and January 2012 that were above historical norms. That trend reversed dramatically in February, when temperatures plunged well below normal during an especially brutal string of days. Cool, wet conditions in April delayed budbreak. May was a bit more normal, but then cool temperatures and rain returned in June, which caused a late and protracted flowering along with high levels of millerandage and coulure, plus widespread outbreaks of mildew.
Warm summer temperatures arrived in late July and especially during August, when highs were well above the average over the last thirty years. Véraison, the period when grapes change color, was drawn out over several weeks, the result of highly variable degrees of ripening within bunches and grapes. Both August and September were warmer and drier than normal. Heat stress was an issue in some spots, especially the lesser terroirs and in younger vines, where the root systems are less developed than they are in older vines.
Véraison
The harvest started on September 2 for the whites. The first reds were brought in beginning on September 25, after which conditions deteriorated into October, which was rainier and cooler than normal. A three-day rain event occurred from October 6-8, followed by much more significant rains on October 18-20. These conditions resulted in grapes with good sugar content (in some cases elevated) but low acidities. Green harvesting around véraison proved to be critical in evening out ripeness in the vineyard, while sorting at harvest and then in the cellar were keys to getting the most out of the vintage. All of this sounds easy, but of course it wasn't, as yields for the vintage were already very low to start with. But the willingness and ability to make the hard decisions is precisely what separates the outstanding from the average and the poor.
Vieux Château Certan, Pomerol
The 2012s From Bottle
In my opinion, many of the best wines are found in Pessac-Léognan, where the finest examples posses stunning richness, power and depth, along with surprisingly elevated sugars. The Right Bank is also home to numerous wines that overachieve the average level of the vintage. Merlot, which ripens earlier than Cabernet Sauvignon, proved to be heavily advantaged in 2012. The Pomerols range from supple, open-knit wines that stand out because of their radiance to powerful, structured wines that will require considerable patience. I also tasted a number of striking Saint-Emilions, although quality is more variable than Pomerol, part of that the result of the sheer size of Saint-Emilion. Fronsac is also strong in 2012, with many wines that deliver the goods at prices that remain approachable. Quality is much more variable in the Left Bank, where I encountered quite a few wines lack mid-palate depth and complexity. Lastly, 2012 is a terrific vintage for the whites, the best of which offer an appealing combination of fruit intensity and vibrancy.
Vines trained low at Tertre Roteboeuf, Saint-Emilion
2012: The Best of the Best
| | |
| --- | --- |
| Ausone | La Violette |
| Beauséjour Héritiers Duffau-Lagarrosse | Lafleur |
| Bélair-Monange | Larcis Ducasse |
| Bellevue-Mondotte | Le Gay |
| Cheval Blanc | Le Pin |
| Clinet | L'Eglise Clinet |
| Clos Fourtet | Mouton Rothschild |
| Haut Bailly | Pavie |
| Haut-Brion | Péby Faugères |
| La Fleur-Pétrus | Smith Haut Lafitte |
| La Mission Haut-Brion | Tertre-Roteboeuf |
| La Mission Haut-Brion Blanc | Trotanoy |
| La Violette | Vieux Château Certan |
| Lafleur | Vieux Château Mazerat |
Overachievers: The Sleepers of 2012
| | |
| --- | --- |
| Alter Ego | Paveil de Luze |
| Hanteillan | De Ferrand |
| Bel-Air La Royère | Pédesclaux |
| Haut-Bergey | De Francs Les Cerisiers |
| Bouscat Cuvée La Gargone | Petit-Figeac |
| Haut-Ségottes | De Pressac |
| Cambon La Pelouse | Petit-Village |
| Haut Bertinerie | Domaine de l'A |
| Les Charmes-Godard | Reynon |
| Haut Condissas | Faizeau |
| La Chenade | Rol Valentin |
| Jean Faux | Grand Pontet |
| Clos Montesquieu | La Roncheraie |
| Joanin Bécot | Guadet |
| Clos Puy Arnaud | La Vieille Cure |
| Moulin Haut-Laroque | Gree Laroque |
| Croix de Beauséjour | Villemaurine |
All of the wines in this article were tasted between April and July 2015. Ideally, this article would have appeared earlier, but work on the Vinous App required a considerable amount of attention over the last few months. Coverage of Bordeaux will be both more extensive and frequent this year and going forward. Because of Bordeaux's global presence and prices that vary widely from market to market, prices for wines in this article are Wine-Searcher average prices at press time.
You Might Also Enjoy

2014 Bordeaux – Vintage Highlights, Antonio Galloni, May 2015

2014 Bordeaux – Les Découvertes: Under the Radar Gems and Sleepers, Antonio Galloni, May 2015

2014 Bordeaux: It Ain't Over Till It's Over, Antonio Galloni, April 2015

2011 Bordeaux from the Bottle, Ian D'Agata, July 2014

2013 Bordeaux: Walking the Tightrope, Antonio Galloni, April 2014
-- Antonio Galloni
Producers in this Article