Browse using the new Vinous website now. Launch →
Printed by, and for the sole use of . All rights reserved © 2015 Vinous Media
2015 Bordeaux: Every Bottle Tells a Story...
BY ANTONIO GALLONI | FEBRUARY 26, 2018
Two thousand fifteen has turned out to be a fabulous vintage for Bordeaux. A dry, hot summer followed by late-season rains introduced a degree of variability in some of Bordeaux's main appellations, but where sites were well positioned to cope with those challenges, the wines are absolutely thrilling.
I was very pleased with my tastings of the 2015s from bottle. So many wines were more convincing than they were from barrel, showing once again that trying to understand the quality and potential of wines that are six months old when they are presented during the en primeur campaign is at best an inexact science. Specifically, I was impressed by how much freshness and structure the 2015s show today. Although 2015 is not an across the board success (for reasons I will discuss below), the best wines are truly phenomenal.
In particular, 2015 is a superb vintage for Margaux and Saint-Julien. Pauillac and Pessac-Léognan aren't too far behind. Things get quite a bit more variable in Saint-Estèphe and the Northern Médoc, where late-season rains just before harvest created problems. On the Right Bank, older vineyards and moisture-retentive terrains did best. Sites with a good deal of Cabernet Franc, which copes better with heat than Merlot, had a natural advantage. The dry whites are often excellent, while the sweet wines are a notch or two above that.
It is tempting to compare 2015 with 2009 and 2010, the last two very high quality vintages in Bordeaux. In my opinion, the 2015s aren't as flamboyant as the 2009s nor do they have the combination of elevated ripeness and structure of the 2010s, even if many 2015s do have alcohols that tip the scales in the 14.5% range. The finest 2015s are wonderfully sensual, exotic wines that should drink well relatively early and also reward aging.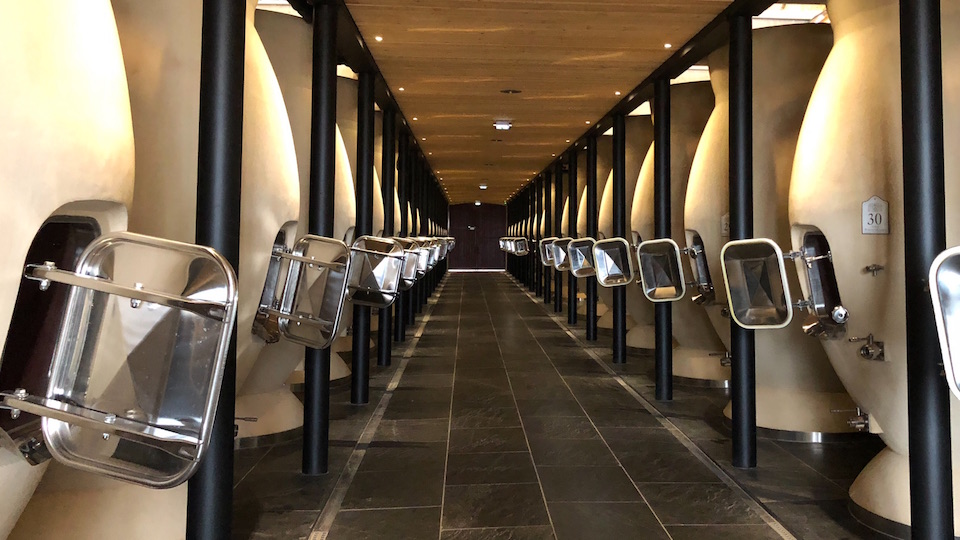 New fermentation vats at Pontet-Canet, Pauillac

The Growing Season
Two thousand fifteen got started with more rain and lower temperatures than historical averages. March through May inverted that tendency and warmer temperatures led to nearly perfect conditions for flowering through early June. By July however, temperatures were higher, and, perhaps more critically, rainfall was much lower than normal. As I toured the vineyards in late July, hydric stress was evident in sites that don't retain moisture well, on lower slopes and among young vines. An inflection point arrived in August, as rainfall was once again higher than normal, while temperatures dropped to below average, where they would stay through the end of harvest.
One of the effects of the cooler August and September temperatures was an extension of the time between mid-veraison and harvest (a common metric in Bordeaux) by one to two weeks. Rain again in September had varying consequences. The Southern Médoc and Right Bank got only a touch of rain, and it was more a blessing than a curse. Unfortunately, the Northern Médoc was not so lucky, as the rains were much heavier, and perhaps even more importantly, the timing of the rains, just as harvest was about to get started, was less than ideal. For the most part, properties were blessed with a large crop of clean fruit. For a full summary of 2015 growing conditions, readers may enjoy revisiting my article, Bordeaux's Radiant 2015s for a comprehensive summary of weather conditions.
The serene cellars at Château d'Yquem, Sauternes
2015 Vintage Highlights

There are a number of truly magical wines in 2015. On the Left Bank, Margaux and Saint-Julien are the epicenter of brilliance. I also tasted a number of fabulous 2015s from Pauillac and Pessac-Léognan. The September rains resulted in slender, somewhat light wines in many Saint-Estèphe and Northern Médoc properties. Over on the Right Bank, the wines are often very ripe, rich and lush, in some cases with elevated alcohols. Moisture-retentive soils naturally fared best, as did vineyards with a healthy amount of Cabernet Franc. There are a handful of Right Bank wines that ascend into the realm of the truly epic. As tempting as it is to focus on the most famous names, the real joy in 2015 is in the mid and lower-tier, where the best wines are gorgeous and also remain affordable for mere mortals.
Margaux – Readers will find a bevy of spectacular wines in Margaux in 2015. Château Margaux, Palmer, Rauzan-Ségla and Brane-Cantenac are all magnificent. Issan, Malescot St. Exupéry and Cantenac-Brown aren't too far behind. I was also deeply impressed with Giscours, which punches well above its weight. Prieuré-Lichine, now under the guidance of Stéphane Derenoncourt, is arguably the most improved wine in the appellation.
Saint-Julien – This tiny appellation is replete of majestic wines in 2015. Léoville Las Cases and Ducru-Beaucaillou are both memorable, but so are Léoville-Poyferré and Léoville-Barton. A wine of pure sensuality, Branaire is the most understated wine in the appellation. Saint-Pierre is the hidden jewel of Saint-Julien, while Gloria remains a tremendous value.
Pauillac – Latour really stands out on the strength of all three of their 2015s. At Pichon Comtesse, Nicolas Glumineau crafted an epic 2015. Pichon Baron, Lynch-Bages, Mouton Rothschild and Pontet-Canet all show the more polished, silky, perfumed, finessed side of the year. Speaking of the Mouton portfolio, Technical Director Philippe Dhalluin and his team deserve a ton of recognition for an overachieving d'Armailhac and a lovely Petit Mouton. Look for Fonbadet to be the sleeper in Pauillac in 2015.
Saint-Estèphe – Rain a few days before harvest gave estates fits. In general, the 2015s are lighter than normal. That is true of Montrose, Calon Ségur and Cos d'Estournel, although Cos is especially fine. Under the direction of Basile Tesseron and consulting winemaker Jean-Claude Berrouet, Lafon-Rochet is arguably the most intriguing re-emerging property in Saint-Estèphe these days.
Pessac-Léognan – Pessac-Léognan is full of exciting wines, both white and red, although I did taste a few wines that were roasted. Among the reds, Haut-Brion and La Mission Haut-Brion are tremendous. Interestingly, the second wines are more variable. The Clarence de Haut-Brion is a respectably younger sibling to the Grand Vin, but the La Chapelle de la Mission shows the clear effects of heat and drought in its roasted fruit and the severe conditions that led to emergency irrigation. Gazin Roquencourt, Malarctic-Lagravière and Haut-Bailly are all stellar in 2015 among the reds, while Domaine de Chevalier, Smith Haut Lafitte and Pape Clément excelled with both red and white. Speaking of whites, Haut-Brion Blanc is epic. Among the more affordable wines, I found much to admire in the second wines, both red and white, from Smith Haut Lafitte.
Pomerol – Pomerol is home to a number of truly stunning 2015s led by Vieux Château Certan and L'Eglise Clinet, both of which are epic. Lafleur and La Conseillante are two additional highlights. My favorite Pomerol I don't hear mentioned much is Feytit-Clinet. As tempting as it is to focus on the most famous wines, readers seeking value should look at the portfolios of some of Pomerol's top names. As an example, Baptiste Guinaudeau of Lafleur and Denis Durantou both make wines from less prestigious appellations that are absolutely delicious. This is one area where Bordeaux does not make things easy for the consumer, because there is no way for the average person to know that Acte 7 and Montlandrie, respectively, are made by these two quality-obsessed growers.
Saint-Émilion – Given the vastness of the appellation, quality is of course going to have some variability. I did run into a few wines with elevated alcohols and cooked fruit. But I also tasted several dizzying wines, including Canon, Bélair-Monange, Cheval Blanc, Pavie, Clos Fourtet and Tertre-Rôteboeuf. All three of Nicolas Thienpont's wines – Beauséjour Héritiers-Lagarosse, Pavie Macquin and Larcis Ducasse – are brilliant.
Satellites – The 2015s from Fronsac are just as appealing from bottle as they were from barrel. Haut-Médoc, often a source for compelling values, is a mixed bag. Wines from the southern part of the appellation (Malescasse comes to mind) are terrific, but things are much more variable to the north because of the September rains.
Dry and Sweet Whites – The dry whites have turned out better than I expected. The best 2015s have terrific freshness and energy coupled with the mid-palate richness that was born from the warm, dry summer. As good as the dry whites are, the sweet whites are even better. Grace, depth without excess weight and terrific freshness are the signatures of the best wines from Sauternes and Barsac.
A selection of top 2015 Saint-Émilions
Bordeaux Coverage in Vinous
We are delighted to have Neal Martin join the Vinous editorial team as of February 1, 2018. Neal and I have known each other since 2006, when we started working with Bob Parker within a few months of each other. It's great to be able to call Neal a colleague again. Neal and I will continue to write entirely separate reports on bottled wines and wines tasted en primeur. In essence, Vinous readers will receive double coverage on barrel and bottled Bordeaux wines. Neal and I will also author verticals, retrospectives and other thematic articles. We may overlap from time to time, but that will only enhance the quality and diversity of views on Vinous.
I tasted all of the wines during a trip to Bordeaux in December 2017. Because of scheduling challenges, I was not able to visit Ausone. As a result, the Vauthier family's wines are regrettably absent from this article. I will taste and report on those wines at my earliest opportunity. As is my custom, in many cases I tasted wines more than once. I would like to thank the many people who worked behind the scenes to facilitate my tastings.
You Might Also Enjoy

2008 Bordeaux: A Day In A Life, Neal Martin, February 2018
2016 Bordeaux: It's Now or Never, Baby, Antonio Galloni, April 2017
Bordeaux's Radiant 2015s, Antonio Galloni, April 2016
2014 Bordeaux: It Ain't Over Till It's Over, Antonio Galloni, April 2015
Producers in this Article