Browse using the new Vinous website now. Launch →
Printed by, and for the sole use of . All rights reserved © 2015 Vinous Media
A Test Of Greatness: 2009 Bordeaux Ten Years On
BY NEAL MARTIN | MARCH 14, 2019
Introduction

Excitement hung heavy in the air and winemakers wore Cheshire cat grins when I tasted the 2009s from barrel almost 10 years ago. Everyone knew they were in the presence of a great vintage. Even with the wines' umbilical cords attached, nobody who attended primeurs that year will forget the seductive intensity of fruit and the luscious textures. Two thousand and nine was born Rubenesque. Its greatness would not be determined by performances in the primeur circus, with its jugglers and clowns; instead, the real litmus test would be how the wines evolved in bottle. A truly great vintage does not sprint out of the blocks and then trip over its shoelaces after a few strides. Nor does it necessarily have to be a marathon runner – i.e., undrinkable for the first few decades. In my book, a prerequisite for greatness is "satisfying longevity," manifesting entrancing secondary aromas and flavors gently sculpted by time, and translating the nuances of terroir both inter-appellation and inter-château. These are the dividends for wine lovers patiently cellaring their bottles. A great vintage should look down imperiously upon other growing seasons and gracefully demonstrate what superiority means.
Tasting the 2009s at en primeur. This was at one of the UGC trade tastings where I slip in to make last-minute checks. Slovenly dressed as usual. Photo copyright Johan Berglund.
Since tasting the wines from barrel, I have monitored their progress, reexamining them just after bottling and again a year later, this time blind at the annual Southwold tasting and subsequently as essential parts of numerous château verticals. I always felt that the crucial test would be when the wines reached 10 years of age. By then, 2009 would begin to clarify where it stands among the pantheon of recent vintages, prove how the wines were evolving and signpost where they might be heading.
It is impossible to write meaningfully about the 2009 Bordeaux vintage without briefly mentioning Robert Parker. Terroir, growing season, technology and winemaker all determined its intrinsic quality, but the reputation of 2009 is predominantly the result of Parker's unbridled enthusiasm upon their release. Consequently, there is an unusual weight of expectation behind the vintage, and yet expectation must be put to one side in order to objectively answer the simple question: How are the 2009s evolving?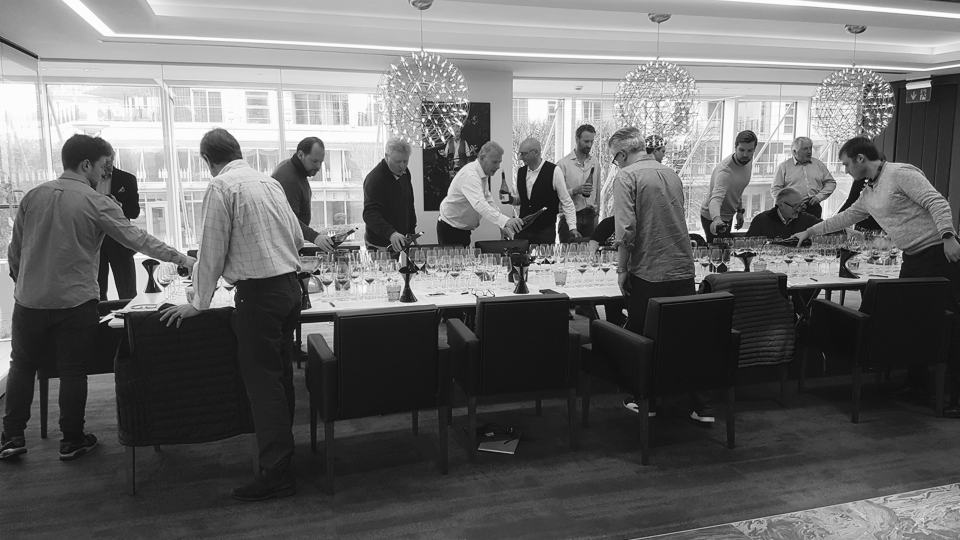 A merry dance around the table as participants pour the next flight at Farr Vintners.
With all this in mind, I adopted a slightly different and hopefully more rigorous approach. In January I tasted the 2009s twice, courtesy of two excellent tastings organized by London-based merchants BI Wines & Spirits and Farr Vintners. Crucially, the former was sighted and the latter was conducted blind. Each has its own advantages and disadvantages. Last year I combined the 2008 notes from those two tastings, but this time they are kept separate, allowing readers to compare two perspectives on the same wine written a week apart under differing conditions. (In fact, some include a third tasting note, since a handful of 2009s were poured at châteaux in December.) It is more like en primeur, tasting samples several times to build observations that hopefully validate one another, though that is not a given. Sometimes reviews contradict each other and reflect the reality that wines vary. The idea that every single bottle tastes identical is a chimera. We are appraising a moving target, since wine is a living entity. If I can offer a musical analogy, every instrument is tuned slightly differently. You just have to stand back and listen to the entire orchestra to hear the sound.
Growing Season
Doesn't 2009 seem like a long time ago? Barack Obama was inaugurated as US president that January, and later that year, the host of The Apprentice sent his first tweet as @RealDonaldTrump. Poker-faced Lady Gaga burst onto the music scene, and we donned 3-D glasses to watch Avatar because it looked like an Atari computer game if you took them off. Usain Bolt became an instant track legend at the Beijing Olympics. It seems like a different age. While I reminisce on all that, here's a quick rundown of the growing season to refresh your memory, since we tend to forget that this annus mirabilis was not all smooth sailing.
A cold, dry winter precipitated a tardy budburst that didn't really get going until the end of March. From the start, there was disparity between cold and warmer soils, clay and gravel, Right Bank and Left – a disparity that was exacerbated by subsequent summer drought. May and June warmed up nicely and the vegetative growth got back on schedule. A hailstorm on May 11 severely damaged Côte de Bourg and Blaye and localized parts of Margaux; a second hailstorm the following morning devastated Entre-Deux-Mers and parts of Saint-Émilion. I remember driving past a forlorn-looking Trotte Vieille the following day. Despite these hailstorms, flowering progressed evenly and quickly and finished ahead of schedule around June 14, portending a large and early crop.
Thereafter, conditions remained unusually benign. It was sunnier than usual, with 532 sun hours versus an average of 484, albeit with none of 2003's heat spikes. Some hot days in late August temporarily blocked ripening in pockets of younger vines or less propitious terroirs. Rainfall was light and intermittent, so that there was a virtual drought in the Médoc. September witnessed a few light showers, although the harvest of dry white grapes passed without drama before September 15, when more persistent rain arrived. After September 21, the skies remained clear and temperatures unexpectedly rose, the first 10 days of October averaging 24.8°Celsius (76.6°F). Sugar levels/potential alcohol levels increased, particularly for the Merlot, but cooler nights and mornings retarded phenolic ripeness in some areas. Most Merlot had been picked during the end of September, with the Cabernets from October 1 until around October 12. The headline was alcohol levels: many properties reported up to 14° alcohol on the Left Bank and between 14° and 15.5° on the Right Bank, with a few exceptions.
The Aftermath
My initial primeur report was enthusiastic but cautioned it was no shoo-in. Back then I wrote: "Two-thousand and nine was Mother Nature's astounding dribbling run through the length of the growing season, weaving past tackles from frost, rain and rot, that ultimately led to the ball being placed on the penalty spot. All man had to do was score the penalty and as we all know, especially if you are an England fan, the ball does not always end up in the back of the net. So whilst Mother Nature had played its part in furnishing vignerons with a surfeit of splendid, superlative-ridden fruit that does not necessarily translate into superlative-ridden wine...in terms of consistency, 2009 falls short of 2005."
That is explained by the growing season. Under their sumptuous veneers, the season wedged subtle differences between the wines, the disparity of budburst between colder and warmer soils compounded by the lack of moisture and drainage efficiency per respective vineyards. Factor in divergent winemaking philosophies between properties, some electing to pick later and/or ferment at high temperatures while others picked earlier and eased off maceration, and it's no wonder that even from barrel, I was convinced that 2009 was more complicated than its promoters were letting on. These minute differences would inevitably become more conspicuous as the wines matured in bottle and followed individual evolutionary paths. Putting aside those reservations, I was blown away by la crème de la crème and proclaimed: "There are a clutch of spectacular, dare I say, legendary wines in the making." There was clearly a bevy of stupendous wines and it would be fascinating to see how they would age.
At the end of April, Parker released his report, which saw an unprecedented stream of potentially perfect wines, and not just within the First Growths; others, such as Pontet-Canet and Léoville-Poyferré, joined this elite, eclipsing all their past glories. Four years since the 2005s and with the economic crash of 2008 already yesterday's news, consumers were willing to spend, though they were not exactly the same. Circumstances were very different and, in hindsight, unique. In 2007 the Hong Kong government abolished the 80% duty on imported wine, dramatically shifting the hub of fine wine to East Asia. Mainland China's economy was rapidly expanding and it became a major global player overnight, meaning that Hong Kong was not only a mature market itself but also a conduit to a billion people and a cash-rich middle-class, fostering interest in wine. The Bordelais quickly latched on to this seemingly endless new market, promoting Bordeaux as a desirable luxury item and en primeur as the ideal way to kindle your new passion. All you had to do was pick up the phone to your friendly wine merchant. Inevitably, frenzy ensued. CEO of BI Wines & Spirits Gary Boom explained: "For the first time as a merchant we simply waited for the telephone to ring rather than having to call customers with an offer." (Let me illustrate that with one anecdote. In 2010 I found myself dining next to a gentleman in Hong Kong who was about my age and friendly and chatty. Without batting an eyelid, he told me that he had bought 1,000 cases of a single classed growth. By my calculation, he would be drinking the same bottle every day for the next 33 years, so I did not ask if it was for personal consumption.) What transpired was an unrepeatable primeur campaign turbo-charged by a combination of quality, high scores, timing, hype and the opening of an enormous cash-rich and, for a brief moment, naive market.
Looking back in more sober circumstances, 2009 is always going to be compared with 2010, although when the primeur bandwagon cranked out the superlatives 12 months later, East Asian markets had wised up and begun nurturing a passion for Burgundy. When comparisons began to be made, I would estimate that without taking anything away from 2009, around 90% of winemakers expressed a preference for their 2010. Afterward? Bordeaux moved on. The region always looks toward the future. The 1855 classification might be unalterable, but practices can be easily modified, especially when pockets are deep. The region was blessed with 2015 and 2016, vintages from the same "patches of dirt" but wines cut from a different cloth: finer tannins, slightly earlier picking, less extraction, less new oak and, on the Right Bank, a continuing shift to more Cabernet Franc instead of Merlot, overseen by young oenologists. I've conducted many verticals including both pairs of vintages, and they clearly reflect a progression in style, or perhaps a regression for some. To reiterate, we do not all have the same tastes, thank God.
Where 2009 Bordeaux Delivers
I love the 2009 Bordeaux vintage. It boasts a smorgasbord of gorgeous wines, among the finest that many properties produced up to that point; wines that fulfill the promise heaped upon them at birth. Generally, the style of the 2009s is predictably fleshy and powerful, rich and sumptuous. At times the Right Bank is a hedonist's playground, offering full-throttle wines that at best come across vivid and sensual. But do not presume that they have all followed the same path. Some 2009s have firmed up and shed their velvety veneers to become more structured and slightly more austere than you might suppose. Branaire-Ducru is one example; others include Cheval Blanc and Ducru-Beaucaillou. These wines deserve continued cellaring, while others can be broached now or in the near future.
Among the First Growths, the 2009 Château Latour stood out in both tastings.
It was only when tasting the First Growths and one or two overperforming châteaux, both sighted and certainly blind, that I began to entertain the notion of perfection. The solitary wine that moved me to consider 100 points was Latour. It is a truly sensational 2009 that in both tastings convinced me it is one step ahead of other châteaux. Ipso facto those châteaux cannot enjoy the same score in keeping with my "peak and plateau" principle, explained in last June's Bordeaux in Excelsis article. Even with respect to Latour, I have a speck of doubt whether it will ultimately match, say, the 2000 or 2010 that prohibits me from awarding a three-figure score, at least on this occasion. Beyond Latour, I fully understand why some 2009s could at least orbit around Planet Perfection, and in no particular order they are:
Château Margaux
Cheval Blanc
Lafleur
Montrose
Pétrus
Below that are 2009s that are wondrous examples of the vintage you cannot own too much of:

| | |
| --- | --- |
| Angélus | La Conseillante |
| Ausone | La Mission Haut-Brion |
| Bélair-Monange | Le Gay |
| Cheval Blanc | Le Pin |
| Ducru-Beaucaillou | Léoville-Las Cases |
| Guiraud | Mouton-Rothschild |
| Haut-Brion | Rieussec |
| Hosanna | Saint-Pierre |
| L'Église-Clinet | |
There are two perhaps unexpected inclusions. The first is Château Saint-Pierre. In recent years it has escaped the shadow of its better-known sibling, Château Gloria, and several impressive performances have upped my estimation, so that I now consider it one of the very finest Saint Juliens. Out of barrel, I wrote: "Undoubtedly the finest St. Pierre that I have tasted." But I never encountered a bottled version that lived up to those words - until now. Chapeau, M. Triaud! The second is Le Gay. When this Pomerol hits a home run, it tends to be spectacular, and the 2009, one of the last vintages under late proprietor Catherine Père-Vergé, is a brilliant wine that stands alongside its much more expensive peers.
The Question Marks
As expected, quite a few 2009s appear forward in terms of their evolution of secondary aromas and flavors – in some cases, more than I would hope, given that eight years' bottle maturation is not long for Bordeaux. Many 2009s have evolved attractive tertiary and savory characters that from time to time tip over into animally, almost feral notes. Attractive, for sure, although it begs the question: Where do they go from here? Some 2009s fall down in terms of finishes that lack delineation and bite, coming across a little smudged, partly because of the higher alcohol levels and partly because of their richness. Sometimes I missed the salinity and mineralité that great Bordeaux should show, and this has been highlighted in numerous vertical tastings where 2009 is compared with 2008 or 2010. Great claret finishes on a cliffhanger, so you have to take another sip to find out what happens next; from time to time, that suspense was missing.
Tasting through more than 300 examples of the 2009 vintage, there is one cause for alarm, irrespective of your opinion or fandom. It is clear that there is a lot of bottle variation, right up to the very top. Especially at the Southwold tasting, I was not the only person concerned about the number of bottles showing signs of oxidation, which was unsurprising since the 2009s contained higher levels of anthocyanins and phenols that render them susceptible to advanced discoloration, off aromas and enervated and occasionally slightly acetic palates. In addition, two major properties have confided that cork quality was not as good as it is now, and even microscopically ill-fitting corks can damage wine. Tasting a large number of wines, you expect some proportion of bottles to be affected; however, the hit ratio was higher than I expected. (One advantage of tasting as a group with back-up bottles is that when someone flags up a potential fault, however subtle or obvious, you can zone in and analyze closely.) Who pays the price? Consumers do. On a positive note, there were only one or two instances of cork taint, so clearly the châteaux have addressed this issue, many now rigorously pre-checking batches or using longer corks.
Bordeaux 2009 By Appellation
Saint Estèphe – I often enjoy this appellation in warm growing seasons, and 2003 is a case in point. One of the most divisive wines has always been Cos d'Estournel, which I have disliked since I tasted it in barrel with then estate manager Jean-Guillaume Prats. Right from the start, it eschewed the character of Saint Estèphe to create a crowd-pleasing, horns-blaring, "sexy" wine that is undeniably enjoyable, but a simpleton and a show-off compared to other vintages. This is nothing new - I am repeating the view expressed in my vertical last year. That impression was confirmed at the sighted tasting and reconfirmed a week later under blind conditions. In the last three or four years, the Cos d'Estournel has, thankfully, toned down and lost some of its garishness, and become a better wine. Yet there is no question that the 2009 Montrose is in a different league in terms of intensity, freshness and complexity. Above all, Montrose tastes like a Saint Estèphe. If I wanted to drink a wine in the style of the 2009 Cos d'Estournel, I would choose from the New World and save myself a lot of money, whereas the 2009 Montrose could only come from this gravel croupe overlooking the Gironde estuary. The hidden gem is unquestionably the 2009 Château Meyney, and this is not the first time it has shocked not just me but the entire group by outclassing more highfalutin opposition. Given its price, the Meyney is a steal. Another winner is a fantastic Phélan-Ségur, which is inconsistent from year to year, but when it does pull one out of the bag, it can be sensational.
Cos d'Estournel. Undeniably enjoyable but not my cup of tea.
Pauillac – This appellation is always given a head start by the First Growths, where, as already stated, Latour reigns supreme. Not many of us can afford those wines nowadays, but there are plenty of alternatives that represent better value – Grand Puy-Lacoste and Haut-Batailley from the Borie family and an excellent Duhart-Milon, for starters. Les Forts de Latour is an exemplary Second Wine, though do not overlook a fine showing from Lynch-Moussas. Pontet-Canet might not be perfection personified, but it remains a brilliant Pauillac from Alfred Tesseron and Jean-Michel Comme that should give a couple more decades of drinking pleasure. I prefer Pichon-Baron to Pichon-Lalande and aver that technical director Nicolas Glumineau made a slightly superior wine in 2010, 2015 and 2016.
Saint Julien – As expected, a very consistent performance across the range, apart from one misfiring bottle from Léoville-Las Cases, which I probably misread, since it impressed at the BI tasting. Bruno Borie oversaw a gorgeous Ducru-Beaucaillou, tasted three times, including at the property; it might be entering a dumb phase, so cellar it for another decade, because it is a long-distance runner. Léoville-Barton excelled in 2009 with two deeply impressive showings, blind and non-blind, neck and neck with Léoville-Poyferré, which revels in warmer growing seasons. As I mentioned, Saint-Pierre is the surprise package.
As I said to John Kolasa when he unveiled the one-off Karl Lagerfeld–designed label for the 2005 Rauzan-Ségla, I could have had my four-year-old daughter create a similar one for half the price.
Margaux – Less consistent than other appellations, since their wines tend to flourish less in warmer growing seasons. But Margaux is speckled with some very fine 2009s outside the obvious contenders – for example, a quite sumptuous and sublime Rauzan-Ségla and a regal Palmer. Try on the 2009 Cantenac Brown for size, or a very satisfying Kirwan. Even Lascombes, a property that I have criticized in the past, showed pretty well at Farr's blind tasting. There are some that misfired on this occasion, such as Monbrison and Marquis de Terme, and a Malescot St. Exupéry that perversely felt more like a New World Shiraz than Margaux (I have found better bottles in the past). Kudos also to Rauzan-Gassies; while not top of the class, this underperformer produced a decent 2009 that ranks among the best wines in recent years.
Pessac-Léognan – Only the red 2009s were included in the tasting. Overall, I found them fairly consistent, albeit without any superstars and with a couple of bottles that did not show well from two of the most reliable performers: Domaine de Chevalier and Haut-Bailly. In fact, the latter prompted so many furrowed brows that a second bottle was opened and merely verified the first. It just felt a little garish. That said, bottles at the château in December and at BI Wines & Spirits showed much better. Likewise, I double-checked the Domaine de Chevalier and compared with a note from a vertical at the château last April where Olivier Bernard served 14 vintages blind. That was much more in line with previous reviews. Perhaps the hidden gem here is the lovely de Fieuzal, often one of the finest values within the appellation. Of course, both Haut-Brion and La Mission Haut-Brion are killer wines, although one bottle at the blind tasting did not match up to others.
Saint-Émilion – The 2009 vintage is seen in some quarters as favoring the Right Bank, although I am less convinced. There is a clutch of stupendous wines in Saint-Émilion, such as Ausone, Cheval Blanc and a fabulous sophomore Bélair-Monange, but they are intermixed with disappointments; there are too many cases where dogmatic late picking and excessive maceration simply pushed the wines toward overripeness. It was here that there were instances of oxidized bottles, such as Pavie-Macquin and Angélus. Gérard Perse and his team oversaw a fine Pavie, even if it isn't close to my notion of perfection and I personally prefer the 2016. The vintage really delivers thanks to the likes of Larcis-Ducasse, a little belter from Rol-Valentin and Tertre-Rôteboeuf.
Pomerol – Generally the Pomerols were seen as more consistent than Saint-Émilion, partly because a majority came from the plateau, whereas the Saint-Émilions were more dispersed over different terroirs. The top three – Pétrus, Le Pin and Lafleur ­– all deliver, although, in a reversal of 10 years ago, prices now approach Burgundy levels. Are they worth the money? That depends on how rich you are or whether you are paying. You can always find great value with the likes of Le Gay, La Conseillante and Hosanna, though I expected more from two of my favorite growths, Trotanoy and Vieux-Château-Certan, which tend to do better in slightly cooler growing seasons.
The 2009 Sauternes represent one of the best vintages I have tasted in recent years, although on this occasion I was left expecting more from some of the big players.
Sauternes – Prior to this tasting, I voiced my adoration for the 2009 Sauternes and could not wait to sink my teeth into a bit of botrytis. Somehow neither flight really scaled the anticipated heights, and I was left scratching my head. In fact, the 2009 d'Yquem that I have rated 100 points was so vexing that a second bottle was opened to check; it was better, but it failed to hit a home run. Fortunately, there are a handful that hit the ball out of the park: Climens, de Fargues, d'Arche and Doisy-Védrines, although I would put my money on a beautiful 2009 Guiraud, one of the best vintages in recent years.
Final Thoughts
These two tastings confirmed my view that although 2009 is a great Bordeaux vintage, it is not infallible. There are unquestionably a bevy of outstanding 2009s that will appeal to those who seek plump and powerful wine with layers of fruit and bold, ostentatious personalities. They have been that way since birth. What they are should not detract from what they are supposed to be. They deliver enjoyment in spades even if they might lack the intellectual gravitas of 2010, the finesse of 2016 or the consistency of 2005. Incidentally, I am not hidebound by that view, as proven in my recent vertical of Pichon-Baron. Do they deserve a small armada of perfect scores? No, even if many represent, or perhaps more accurately represented, the best up to that point. They are still wines to be immensely proud of, milestones that testify to the enormous strides those properties have made. Success like that does not come overnight. Both of these tastings reinforced my opinion that unlike 2005 or 2016, the 2009 vintage offers a large number of outstanding wines rather than a clutch of perfect wines. My enthusiasm has never matched the hyperbole that greeted their release, but I still adore the vintage and rank it as one of the greatest in recent years.
The question remains how the 2009s will age. There is a fundamental difference between surviving and evolving. I have no doubt that many 2009s have the substance to keep drinking for many years, though they seem to be marching into secondary phases at a pace that casts doubt on whether they will manifest the kaleidoscope of aromas and flavors that would put the vintage up there with the very best. These tastings provided no evidence that 2009 will surpass 2005, 2010 or 2016. Factor in bottle variation and incidence of oxidation, and 2009 is a vintage that needs to be monitored closely, preferably in a more sober environment than greeted their release onto the market. The minor reservations I voiced back in April 2010 seem to have been well placed. The world is a different place in 2019, not only in terms of wine criticism but everywhere. Where will we be in 2029? Where will the 2009s be at 20 or 30 years of age? How will they show vis-à-vis 2010 – and for that matter, 2015 and 2016, or the incipient and much-touted 2018? I'll let you know.
You Might Also Enjoy

Outsider Looking In: Sociando-Mallet 1982-2015, Neal Martin, March 2019
Looking The Part: Pichon-Baron 1953 – 2015, Neal Martin, January 2019
The DBs: Bordeaux 2016 In Bottle, Neal Martin, January 2019
Fairest of Them All: Cos d'Estournel 1928 – 2015, Neal Martin, October 2018
Bordeaux In Excelsis, Neal Martin, June 2018
Producers in this Article