Browse using the new Vinous website now. Launch →
Printed by, and for the sole use of . All rights reserved © 2015 Vinous Media
Asti & Moscato d'Asti: The Delightful Lightness of Being
BY IAN D'AGATA | DECEMBER 27, 2018

Asti and Moscato d'Asti are two of Italy's best-known and most delicious sparkling wines. Light in alcohol and strong on flavor, Asti and Moscato d'Asti are the ultimate party wines, but they can be remarkably nuanced and terroir-specific, too. At their best, the wines offer aromas and flavors of orange blossom, pear, peach, sage, vanilla and other sweet spices, and are an absolute joy to drink on their own, as aperitifs or with fruit and cream-based desserts.
Asti and Moscato d'Asti are both made in Piedmont, and while they undoubtedly share similarities, they are distinct wines and deserve to be appreciated for the their own merits. Both Asti (formerly known as Asti Spumante) and Moscato d'Asti are produced in 52 communes within Piedmont spanning an area roughly 9,700 hectares, by a whopping 3,700 different producers. There is slightly more Asti than Moscato d'Asti made: for example, of 85 million total bottles produced in 2016, 54 million were of Asti and 31 million were of Moscato d'Asti.
The Moscato Bianco vineyards at Castiglione Tinella in the heart of the Moscato d'Asti zone

Both wines are made with Moscato Bianco (the Muscat à Petit Grains or Muscat d'Alsace of France), a variety reportedly loved since ancient Roman times, and one that has always been extremely popular in Italy. In fact, it is the only grape variety planted in all of Italy's 20 different regions. It follows that there are many wines made with Moscato Bianco all over Italy, some of which are quite famous, such as Tuscany's Moscadello di Montalcino, Sicily's Moscato di Noto, Puglia's Moscato di Trani and Valle d'Aosta's Chambave Muscat. Given the grape's ubiquity and popularity in the Italian countryside, it is hardly surprising that distinct Moscato Bianco wines abound in Piedmont too – such as, for example, in Strevi and Loazzolo. However, in this specific neck of the Italian woods, and in Italy in general, Asti and Moscato d'Asti are by far the best-known Moscato wines of all.
Last but not least, Asti and Moscato d'Asti are sparkling wines made by the Martinotti-Charmat method, in which the second fermentation takes place in autoclaves, and so the bubbles that so characterize these wines are created not in bottle as in the classic method of Champagne or Franciacorta, but directly in large tanks.
Differences between Asti and Moscato d'Asti are just as noteworthy as their similarities. Asti is a fully sparkling wine, while Moscato d'Asti can run the gamut from practically still to gently sparkling (frizzante). Also, even though both are sweet wines, Asti tends to be more off-dry while Moscato d'Asti can be frankly sweet (120-130 g/L of residual sugar is not uncommon). In fact, a separate category of Vendemmia Tardiva (late harvest) wines exists for Moscato d'Asti. The best of these wines are especially worth looking out for. And finally, both Asti and Moscato d'Asti are characterized by low alcohol levels: Asti hovers around 9% (but never more than 9.5% by law), while Moscato d'Asto comes in around 5.5-6%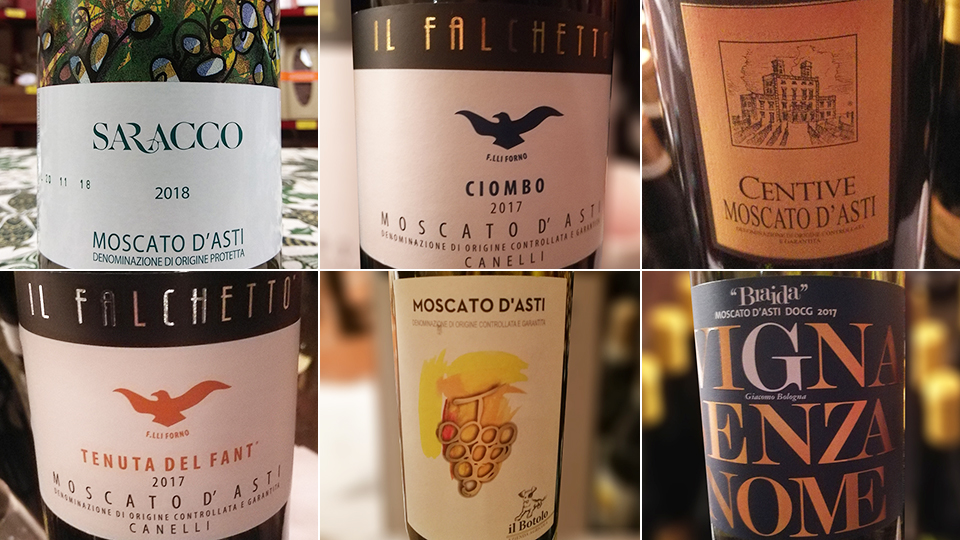 The Past and the Present
The fortunes of these wines have been up and down over the last few decades. Asti Spumante was extremely popular after World War II and became famous in the US thanks to soldiers who brought back bottles on their return home. Unfortunately, too much success can be a bad thing, and the desire to produce more and more wine led to excessively high yields and too many poor wines, ruining Asti Spumante's reputation. (In an effort to rid themselves of that stigma, producers opted to eliminate the world "spumante" from Asti to try to create a new image for the wine.) Over the last decade, greater attention has been placed on the vineyards and the winemaking, and Asti wines have improved as a result, with less dilute, neutral and soapy wines being made. By contrast, there has been no such problem with Moscato d'Asti, which has always been characterized by a high and constant level of quality across producers. Recently, Moscato d'Asti's sales and notoriety have been driven up by its becoming the darling of successful rap and hip-hop artists, who have actually included the wine's name in songs. With PR like that, you almost can't help but register higher sales.
Unfortunately, the recent lack of interest in sweet wines worldwide resulted in a decline of sales for both Asti and Moscato d'Asti, and this has led producers to launch a classically dry version of Asti, known as Asti Secco, that became a DOCG wine in June 2017. Asti Secco is a sparkling wine that smells and tastes like Asti, but finishes classically dry, offering a distinguishing, pleasant bitter note on the back end. This is because in Asti Secco there is less sugar to buffer the bitter nature of terpenes and other archetypal aromatic molecules of the Moscato Bianco variety. Among recent vintages, 2017, a hot year, has given luscious but at times freshness-challenged wines, while the cooler 2016 season made for more classic wines, though less successful examples can at times be marked by green elements.
Asti, Asti Secco and Moscato d'Asti fever!

Asti is a very pretty city characterized by important squares and beautiful stately buildings. In fact, it is architecturally much more interesting than nearby Alba, for example, which though a very pretty, even fun city, cannot boast the wealth of noble palaces that Asti has. Asti's countryside is also some of the most picturesque landscapes in Piedmont, with gentle, low-lying slopes, lush forests (which are much more common than in the Langhe, for example) and rivers and streams. A drive through the Asti appellation will take you on many narrow, winding roads connecting tiny, quaint towns with farms, pastures where livestock graze lazily and vineyards surrounded by forests. It is a land of many different wine terroirs, and though it isn't always immediately obvious to wine lovers, Moscato d'Asti, in particular, is a wine that reflects these differences in terroir very well. For example, the townships of Canelli, Castiglione Tinella, Mango and Santo Stefano Belbo are viewed as grand cru areas for the Moscato Bianco variety, and all have a long history of producing wines of distinction. Three subzones have been officially identified for Moscato d'Asti – Canelli, Santa Vittoria and Strevi – and their names can be included on the Moscato d'Asti label. Of these, Canelli (where the majority of Piedmont's Moscato Bianco is grown) is so famous that the town has given its name to the cultivar itself; in fact, Moscato Bianco is known as Muscat Canelli all over the world.
The following wines were tasted in May, June, November and December 2018 in Rome or in Piedmont while visiting wineries.
You Might Also Enjoy

Franciacorta: Bring In The Holiday Season With Italian Bubbles, Ian D'Agata, December 2018
The Wines of Alto Adige, Ian D'Agata, December 2018

Mountain Magic: The Wines of Valle d'Aosta, Ian D'Agata, June 2018
Friuli Venezia Giulia: A Wine Smorgasbord, Ian D'Agata, May 2018

Italy's Late Harvest and Air-Dried Sweet Red Wines, Ian D'Agata, October 2017

Producers in this Article