Browse using the new Vinous website now. Launch →
Printed by, and for the sole use of . All rights reserved © 2015 Vinous Media
Coutet Cuvée Madame
BY NEAL MARTIN | JANUARY 7, 2019
An unexpected message pops up on my Smartphone. It is from Aline Baly, daughter of co-proprietor Dominique Baly, enquiring whether I can meet for an impromptu tasting of eight vintages of Coutet's Cuvée Madame. The odds are slim. I am flying back to Blighty at some ungodly hour the following morning and I am midway through a marathon tasting. Then again, this is not just any Sauternes, but an elusive and fascinating bottling. Thankfully we find time to rendezvous even though both Aline and "Madame" must slum it in the lobby of the Ibis Budget in all its pastel glory. I have only tasted the Cuvée Madame a handful of times, my first when Robert Parker poured the 1986 blind at dinner. Rarity notwithstanding, there is timeliness to this article, since it coincides with the release of the 2009 Cuvée Madame and you will have to wait another eight years for the next one.
Yes, this vertical really did take place in the lobby of the Ibis Budget. Aline Baly, daughter of Coutet proprietors Philippe and Dominique, with a very rare vertical of the Cuvée Madame.
So what is it? How does the Cuvée Madame differ from the regular Château Coutet? The cuvée is named after Mme. Rolland-Guy who co-owned the estate until 1977. In 1925 Coutet was sold to Henri-Louis Guy. He had two daughters, one of them, Mme. Thomas, widowed early in her life. Her children's education was assigned to a priest, Edmond Rollan. When not teaching trigonometry and the psalms, he was falling madly in love with Mme. Thomas. Their relationship blossomed. Rolland renounced his religion so that they could marry and his ardour was such that he created a special cuvée in her honour. This came from the two oldest parcels of Sémillon that tend to ripen late and deliver fruit with 22 degrees potential alcohol. Pickers would ritually harvest this fruit gratis in the morning to preserve freshness in return for a bit of grub and accommodation. The wine is aged in new oak for three years, bottled separately, and presented to Madame. Production is always around 1,000 bottles. Early vintages were never commercialised, but given to friends, family or workers. The tradition continued after the Baly family acquired the estate in 1977. The Cuvée Madame is not produced every year but at least it is obtainable. Baly explains that it matures in tandem with the regular production and if at any point it is deemed unworthy of the cuvée, then barrels return to main blend. Consequently the only years it has been produced are: 1943, 1947, 1959, 1971, 1975, 1981, 1986, 1988, 1989, 1990, 1995, 1997, 2001, 2003, 2009 and 2014. Mature vintages are rare as hens' teeth. One of the foremost Sauternes collectors in the world recently told me that he has never seen one prior to the 1970s. Bottles are matured at Coutet for around ten years, hence the release of the 2009 Cuvée Madame and the follow-up 2014 will not be released until around 2026.
I broach the eight wines from youngest to oldest, plus I add the 2001 Cuvée Madame that I tasted at Coutet in March 2018. The wines tend to be richer in style than regular Barsac/Sauternes as you would expect given the grape variety and late picking, although never as unctuous as say, the L'Extravagant de Doisy-Daëne. They clearly deserve bottle age and although ten years in bottle before release is welcome, I advise allowing another ten to fifteen years if you can wait. The standout is the ethereal 1990 Cuvée Madame, Aline Baly and myself agreeing that this is the greatest release in recent years.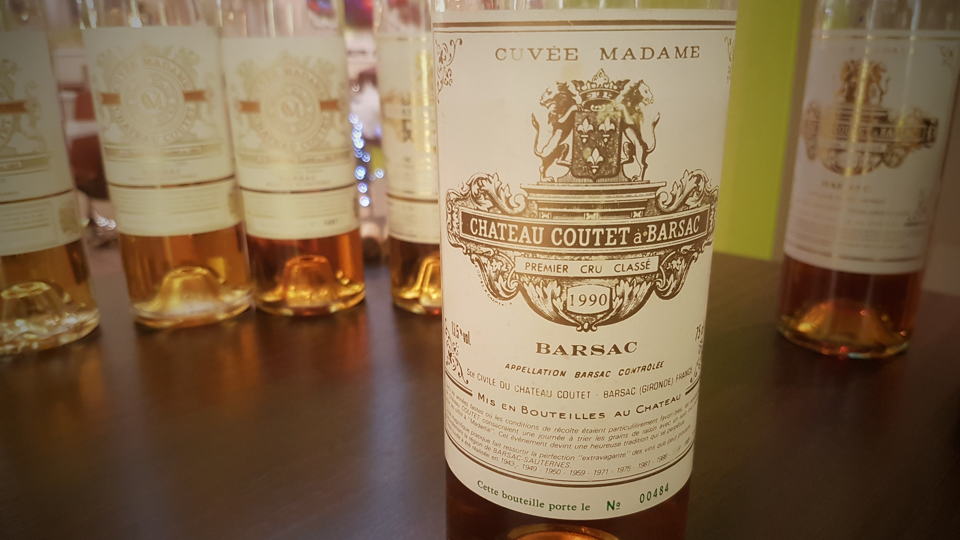 The 2014 Coutet Cuvée Madame is probably not going to be released until 2026 according to Aline Baly, so Vinous readers cannot argue that they are not given plenty of notice. It has a gorgeous bouquet with honeycomb, fresh figs, quince jus and yellow flowers, all beautifully defined and extremely intense. The palate is viscous on the entry, almost unctuous, notes of marmalade and mandarin, with a killer line of acidity and a tang of lemongrass towards the finish. Outstanding, but you'll have to wait to get your mits on it. The 2009 Coutet Cuvée Madame is the fifteenth release due in January 2019. It is a slightly larger production than the usual 1,200 bottles: 1,900 bottles produced of which 1,600 are planned for release. It has a very complex bouquet with dried honey, barley sugar, orange zest, frangipane and hints of ginger. This just takes a little while to coalesce. The palate is a party in the mouth with an effervescent entry, Clementine, honey, a touch of Chinese 5-spice and ginger, certainly one of the spicier Cuvée Madames that I have tasted with pain d'épices on the finish. Superb. The 2003 Coutet Cuvée Madame is a vintage that I last tasted in 2015. This has a concentrated nose with barley sugar, mandarin, marmalade and slight lanolin aromas. The palate has a viscous entry, beautifully balanced and although it seems to contain more residual sugar, there is in fact less than the 2009 or 2014 because of the higher total acidity. This is a Cuvée Madame of density and volume, filling the mouth with unctuous honeyed fruit with an almost Tokaji-like finish that is enthralling. The 2001 Coutet Cuvée Madame has an intense bouquet of mango, dried honey, crème brûlée and Aszu that explodes from the glass. This is a bouquet that takes no prisoners - determined to make an impressive. The palate is wonderful. So harmonious and viscous, the richness effortlessly offset by a spine of underlying acidity. With wonderful poise and a spicy finish with hints of nutmeg, this is an awesome Cuvée Madame that will offer decades of pleasure. The 1997 Coutet Cuvée Madame is a vintage that I have tasted a couple of time before. This has a more Aszu-like bouquet that has become more resinous in recent years. This is not flamboyant like the 2003, more linear and perhaps more noble. The palate is beautifully balanced with real Barsac character, very mineral driven underneath those layers of botrytised fruit with tangy marmalade and quince towards the persistent finish. This is one of the most intellectual Cuvée Madam vintages that I have tasted in recent years. Magnificent. (156gm/L residual sugar, 3.8gm/L total acidity, 13.5% alcohol). The 1995 Coutet Cuvée Madame has a less flamboyant bouquet than other vintages, quite tight at first with dried honey, pain d'épices, barley sugar and wax resin aromas. The palate is well balanced with a viscous, waxy-textured opening, quite spicy in style, very well balanced and fresh, quite mineral-driven, with that Manuka honey lingering long on the finish. Excellent. (145gm/L residual sugar, 3.5gm/L total acidity, 13.5% alcohol).
The 1990 Coutet Cuvée Madame is a vintage that I have never encountered before and my word, this has to be one of the greatest Sauternes ever made. It has an ethereal bouquet with Manuka honey, linseed, melted candle wax and a touch of toffee apple that even after 48 hours of opening is as fresh as a daisy. The palate is very well balanced with stunning harmony, the acidity slicing through those layers of botrytised fruit, effortless and extraordinarily long. This is one of the purest Cuvée Madame releases that I have tasted, surpassing the 1995 and 1997, an absolutely sensational Barsac. Profound. (175gm/L residual sugar, 13.0% alcohol). The 1989 Coutet Cuvée Madame is a vintage that I have encountered only before in 2011. This was a small production of 1,000 bottles only. To be brutally honest, it cannot compare with its 1990 counterpart on the nose, although it is beautifully defined with melted wax, dried apricot, hints of honeysuckle and a touch of pain d'épices. The palate is actually better than the nose: very tensile thanks to a killer line of acidity, full of energy, less unctuous than the 1990 but with impressive detail and tension all the way through to the finish. (175gm/L residual sugar, 13.0% alcohol). The 1975 Coutet Cuvée Madame is the oldest vintage that I have tasted, bottles of this era. It has a deep amber hue. The bouquet is different from more recent vintages that I have tasted, a doppelgänger for a Tokaji, quince and marmalade, nougat and touches of marzipan. Wonderful. The palate is extremely well balanced with a fine thread of acidity, slightly more oxidative in style than the recent vintage with orange rind, marmalade, barley sugar and dried quince. It is quite spicy with what feels like less residual sugar on the finish. Fantastic.
Producers in this Article