Browse using the new Vinous website now. Launch →
Printed by, and for the sole use of . All rights reserved © 2015 Vinous Media
Tasca d'Almerita's Rosso del Conte: 1979 – 2012
BY IAN D'AGATA | OCTOBER 11, 2017
For the longest time, Sicily's Tasca d'Almerita's Rosso del Conte was (along with Mastroberardino's Taurasi) southern Italy's greatest and most famous red wine. Besides showcasing the merits of the island's Nero d'Avola grape, Rosso del Conte proved that Italy's south could also produce world class, age-worthy reds. Rosso del Conte was also the first single vineyard wine ever produced in Sicily.
A view from the Tasca estate

The Estate and the Birth of Rosso del Conte
Tasca d'Almerita has a long and distinguished winemaking history. The family bought the Regaleali estate, located in central Sicily, about an hour and a half south of Palermo, in 1830. Today Tasca d'Almerita farms over 500 hectares divided up between five different properties in Sicily, of which Regaleali is one.
Count Giuseppe Tasca d'Almerita was a huge fan of the wines of Bordeaux and Châteauneuf-du-Pape and visited both regions. Tasca was convinced that Sicily could make a wine that was every bit as good as those of the southern Rhône, and set out to produce a wine that, like those, would be a blend of different grapes but from a single, very specific, high quality site.
The wine that came to be known as Rosso del Conte was born after a series of experimental vinifications performed over the course of three years by Count Giuseppe Tasca d'Almerita. Initially, Tasca referred to the wine as the "supermarca", as he wasn't sure the wine would ever be good enough for him to call it with his name, as "Regaleali Riserva del Conte". Actually, the wine turned out better than expected, and so the name stuck until 1977, when the "Riserva" moniker was dropped and the wine's name shortened to "Rosso del Conte" (or in English, "the red wine of the Count"). In 2010 a Riserva Rosso del Conte was made once again as a special commemorative bottling.
Through trial and error, Tasca identified the San Lucio vineyard as the ideal site for his Rosso del Conte. Ironically, the vineyard had always been planted mainly to Perricone, another local Sicilian native red grape, plus Nero d'Avola. Three and a half hectares large, the vineyard was first planted in 1954, and again in 1959 and 1965. Only recently a large swath of this truly beautiful vineyard has been replanted, with the thin shoots of the young vines clinging to supporting canes providing a stark contrast to the very thick gnarly old bush vines from the original plantings. San Lucio's oldest vines were planted by Giuseppe Tasca d'Almerita himself, who named the vineyard in honor of his father, Lucio. The vineyard sits at an altitude of 480 meters above sea level and is characterized by an essentially yellow-brown mainly sandy soil. The microclimate (not just of the San Lucio vineyard but of Regaleali in general) is cooler than that of many other parts of Sicily. For example, the harvest at Regaleali occurs roughly twenty days after it does on the Sicilian coast (depending on the vintage) and diurnal temperature variations are strong (there can be as much as a 20-25°C difference between day and night temperatures.) The grapes therefore benefit from generally longer hang times than in most viticultural areas of Sicily and southern Italy. Today, a small portion of the grapes that go into Rosso del Conte can also come from a few other nearby vineyards as well, but for the most part the wine speaks of the San Lucio terroir.
Vineyards of Nero d'Avola at Tasca d'Almerita

The Wine (and Perricone's Place in History)
Rosso del Conte is generally regarded as an archetypical Nero d'Avola wine, and so it will surprise many readers to know that, originally it was a wine made more with Perricone than with Nero d'Avola. In a story similar to many others you'll hear all over Italy time and again, Perricone is another of the many local Italian native red grapes of which the outstanding winemaking potential has only recently been "rediscovered." In fact, Tasca d'Almerita have been so smitten with Perricone's merits that the estate started producing a monovariety Perricone wine called Guarnaccio three years ago.
Historically, Perricone was always abundantly planted in Sicilian vineyards either on its own (it is the variety used to make Ruby Marsala) or along with Nero d'Avola. This was typically done not just because planting Perricone allowed farmers to hedge their bets in years when Nero d'Avola (a variety that doesn't like excessive humidity and wet conditions) risked producing less, but also because Perricone is Nero d'Avola's ideal blending partner. Not surprisingly, all those in Sicily – and there are many – who have planted hectares and hectares of Cabernet Sauvignon, or even worse, Merlot, a variety that does poorly in Sicily's hotter areas, beg to disagree. Much like Canaiolo Nero in Tuscany and Malvasia Nera in Puglia have long been used to add a little something to wines mainly made with Sangiovese and Negro Amaro respectively, so it is with Perricone and Nero d'Avola. Perricone turns out to be the perfect soulmate of Nero d'Avola for at least a few reasons. First, Nero d'Avola tends to produce wines with high natural acidity (pHs of 3-3.3 are not unheard of), because it's a variety especially rich in tartaric acid, which unlike malic acid, is not eliminated by putting the wine through malolactic transformation. Therefore, a little Perricone goes a long way in helping soften the finished wine. Second, Nero d'Avola wines are not especially tannic, while monovariety Perricone wines are usually tough when young. Therefore, adding Perricone to Nero d'Avola provides a firmer tannic spine and welcome backbone.
The early vintages of Rosso del Conte (the wine was first made in 1970) were roughly a 60%-40 % Perricone/Nero d'Avola blend. With the 1976 vintage, Rosso del Conte became a mainly Nero d'Avola wine, although I have never really been able to ferret out a satisfactory explanation from anyone as to why this happened. In any case, Rosso del Conte became a roughly 90%-10% blend of Nero d'Avola and Perricone (though often the Perricone was much less than that) which is the Rosso del Conte we know today. Other important moments in the history of Rosso del Conte that are worth remembering are the end of the 1980s, when the large chestnut wood barrels in which the wine had been aged up until then (from 1970 to 1987) were replaced by large Slavonian oak casks, and then the early to mid-1990s, when French oak tonneaux and barriques came into favor over the larger casks as the aging vessels of choice (the small barrels were first used with the 1992 vintage).
Two thousand-four is the beginning of what has always been in my view a dark period for Rosso del Conte. In the vintages that followed, Cabernet Sauvignon, Merlot and Syrah were added in varying proportions to the Rosso del Conte blend, based on repeat tastings of the different barrels. The stated, understandable, goal was to make the finest red wine possible using all of the estate's best grapes. In my view, Rosso del Conte lost a bit of its unique personality in those years. Additions of the international grapes peaked at close to 30% of the total blend with the 2006 vintage, although Alberto Tasca told me that for the most part, international grapes only rarely amounted to more than 8-10% of the final blend. That said, I think there are some Rosso del Conte vintages that are strongly marked by notes of cedar, graphite, herbs and coffee, in which the presence of Cabernet Sauvignon (especially) seems much higher than 10%. In any event, those years in which the green elements and tough tannins dominate are not my favorite Rosso del Contes, although clearly others who cared less about somewhereness in wines weren't quite as miffed as I was. With the 2009 vintage, Rosso del Conte returned to being predominantly a Nero d'Avola/Perricone blend, but as it was a difficult vintage, the estate decided not to release the wine).
The 2010 vintage is an especially significant one for Rosso del Conte. In honor of the wine's 40th anniversary, Tasca d'Almerita decided to once again make a wine following the original blend. That year, Tasca d'Almerita bottled a Rosso del Conte "normale" along with a special commemorative Riserva del Conte bottling that is, once again, a 60%-40% Perricone-Nero d'Avola blend and aged in chestnut wood barrels. This special commemorative bottling was met with so much success (and rightly so) that Alberto Tasca d'Almerita tells me the family will likely produce a Riserva del Conte again in the future. The Riserva will continue to be a mainly Perricone wine aged in chestnut wood barrels, but in his estimation it will be made only in powerful, exceptional years because chestnut wood is too dominant and strongly marks the finished wine with potentially bitter elements.
Commemorative special bottlings aside, Rosso del Conte has always been Tasca d'Almerita's flagship. Like most important wines, Rosso del Conte is made only in the best years, and therefore was not produced in 1972, 1973, 1976, 1996 and 2009. Production is 30-40,000 bottles, depending on the vintage. ­­Growing conditions are really important with Rosso del Conte, as the wine never strikes me as being especially successful in overly hot years, most likely because Nero d'Avola and Perricone are both late-ripening varieties. Therefore seasons that are too hot heavily curtail the buildup of aromatic molecule precursors that derive with prolonged hang time and embellish the finished wine with noteworthy perfume and complexity. In ultimate analysis, when Rosso del Conte is good, it is one of Italy's greatest, most complex red wines. The new Riserva del Conte is potentially an exceptional wine I look forward to tasting more and more vintages of in the future.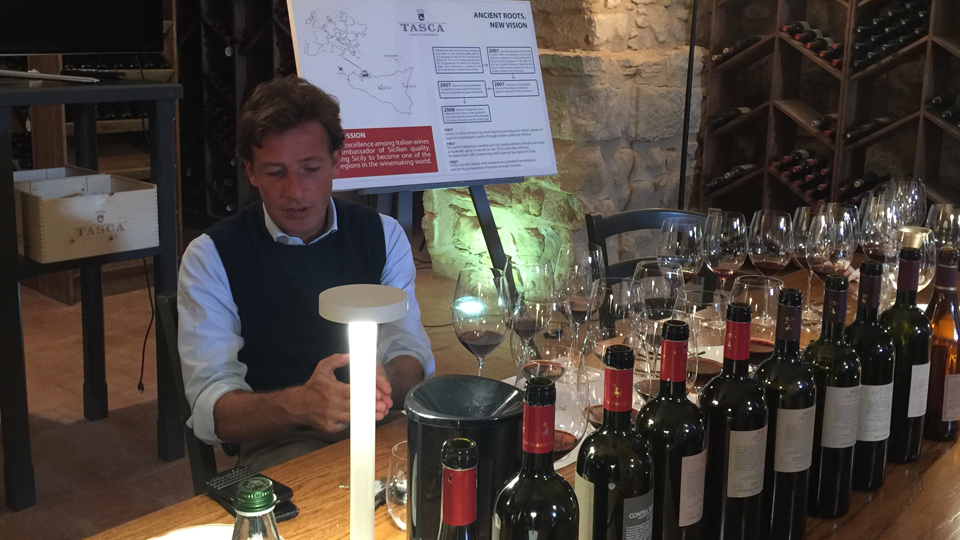 Alberto Tasca during the tasting

The wines in this tasting were sourced directly from the estate and tasted in September 2016. They were tasted from oldest to youngest in the company of Alberto Tasca d'Almerita, who prefers to taste them in this manner. Readers might also like to refer to the a similar vertical reported on by Antonio Galloni seven years ago; I thought it would be fascinating to check up on this wine after all this time and see how it has been evolving, plus add in a few new, significant, vintages given all the changes that have taken place, for comparison's sake.
See the Wines in the Order Tasted, from Oldest to Youngest
You Might Also Enjoy
Feudo Montoni's Nero d'Avola Lagnusa and Vrucara: A Definitive Tasting of Two Great Italian Reds, Ian D'Agata, September 2017
Sicily Continues To Progress, Ian D'Agata, September 2017
Producers in this Article