Browse using the new Vinous website now. Launch →
Printed by, and for the sole use of . All rights reserved © 2015 Vinous Media
92 Kensington Park Road,
London,
W11 2PN
BY NEAL MARTIN | JANUARY 18, 2019
The Food
Amuse-bouches: crispy smoked duck wing, foie gras parfait and Madeira, jellied eel with seaweed
Colchester crab with black truffle, celery and red apple
Langoustine and veal sweetbread, fennel, carrot in lobster bisque and vin jaune sauce
Seabass with oysters, cucumber and caviar
Oxtail-stuffed Roscoff onion on toast, Gruyère and beef broth
Duck and red grapes, thyme, honey and Timut pepper
"The other carrot"
"Core-teser" (chocolate, malt and hazelnut)
Wines
| | |
| --- | --- |
| NV Krug Grand Cuvée 166ème Édition | 94 |
| 2011 Schäfer-Fröhlich Bockenauer Felseneck Riesling Spätlese | 91 |
| 2013 Clos du Jaugueyron | 86 |
| 2014 Vin de Constance – Klein Constantia | 94 |
In my eyeline is chef Clare Smyth. She meticulously inspects every dish that her youthful team prepares. It reminds me of nervous schoolchildren showing homework to their fearsome teacher, this one dressed in whites rather than mortarboard and gown. The inspection takes place behind floor-to-ceiling glass panels that magnify my view into the kitchen. I am voyeur to every stir, slice and surgical placement of minuscule edible flower or herb. The tweezers are busy today. Unlike my imaginary schoolteacher, Smyth does not look fearsome. But her diligence is in no doubt. She looks unbelievably… exacting.
Core frontage

Core by Clare Smyth's ambition is clear: Michelin stars – three, please. Given that just months after opening she was awarded two, this is not beyond the realm of possibility, and it's a big deal on these shores. To be frank, I do not regard Michelin as an accurate measure of quality, more a handy guide. I reserved a table not because of a tyre company but because Dan Keeling, co-owner of Noble Rot, rhapsodised about Clare Smyth's desserts to the extent that life could not continue without trying them myself. And you know what? Core is the most impressive debut since I first dined at The Ledbury, another Notting Hill destination restaurant.
County Antrim–born Clare Smyth ran Gordon Ramsay's flagship in Hospital Road whilst he was in the United States reducing feckless chefs to tears before the predictable Damascene resurrection and "Roll credits." A chef as talented as Smyth would eventually want her own name above a restaurant door, and so Core by Clare Smyth opened in August 2017 in the former Victorian home of the Notting Hill Brasserie. The spotless interior features white walls adorned with white bas-relief paintings, simple polished wooden furniture and minimal decoration, yet despite the Spartan decor, it manages to convey a cosy, lived-in ambiance, due partly to the building's age and partly to the clever design. There is the obligatory bar at the entrance that leads to a lower floor, where a large chef's table is positioned directly outside the kitchen. The main dining area, located two or three steps up, is small in size, with around 50 covers.
Foie gras parfait and Madeira

We opt for the Core Seasons tasting menu. We are willing guinea pigs and, in retrospect, it is a wise decision. This Core Seasons menu is a little more adventurous and perhaps offers a little more theatre than the Core Classics. As you can see from the pictures, the presentation of every dish is a work of art, to the point where I feel guilty demolishing the food with knife and fork.
Jellied eel with seaweed

As you would expect from a restaurant of this calibre, we begin with a series of amuse-bouches. First up, two skewered smoked and lightly spiced duck wings with burnt orange, decorated with a small bouquet of thyme that I take home as a memento. Mouthwatering. This is followed by two foie gras parfaits with a Madeira jelly, beautifully presented amongst moss and holly. The umami of that jelly is extraordinary, the Madeira influence subtle but tangible. Next, what looks like a miniature rock pool houses jellied eel and Japanese nori with a malt vinegar spray – a real mouth-cleanser that revivifies the senses. This may be the prettiest dish, right out of Heston Blumenthal's culinary imagination. I am already deeply impressed and we have not even broached the first official course.
Colchester crab with black truffle, celery and red apple

That comes with the small bowl of Colchester crab served with black truffles, celery and red apple. Crab can often lack flavour, but this combination works brilliantly, the apple lending the edge that is oft missing from this crustacean.
Langoustine and veal sweetbread, fennel, carrot in lobster bisque and vin jaune sauce

Possibly the highlight of the entire lunch arrives. The one-two of langoustine and sweetbread is to die for, served with carrot and fennel, ankle-deep in two sauces, a vin jaune reduction and a langoustine bisque. It is so delicious that I want to cry. The herbs, delicately placed, set it off perfectly, and my remnants of bread mop up every last atom.
Seabass with oysters, cucumber and caviar
Next is seabass, generously topped with caviar, accompanied by oysters and cucumber wallowing in a gorgeous buerre blanc, which is fairly straightforward compared to the Roscoff onion stuffed with oxtail, decorated in garlic flowers and seated on a Gruyère toast and beef broth. I call the waiter over and ask: "How do you get the oxtail inside the onion?" "Carefully," he replies. Quack, quack! – next is the duck. It is perfectly cooked, glistening pink, moist with lightly crispy skin topped with globules of honey. What looks like a small dinghy of shaved red grapes is moored to its side, and both are judiciously sprinkled with Nepalese Timut pepper that lends extra bite.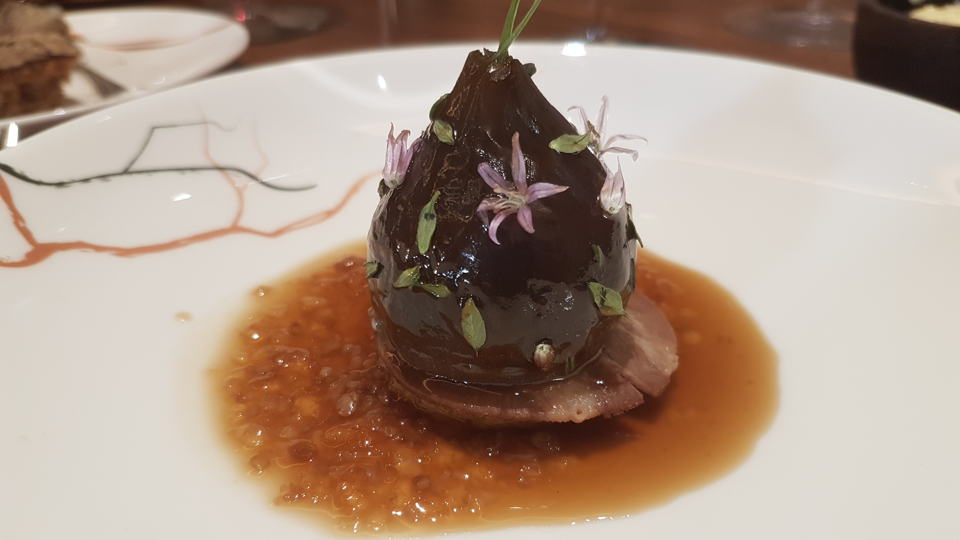 Oxtail-stuffed Roscoff onion on toast, Gruyère and beef broth

The two desserts are indescribably mouthwatering and theatrical, living up to the promise. "The other carrot," to give it its proper title, simply takes on the appearance of the vegetable. Inside the carrot jelly exterior is scrumptious cream cheese that combines beautifully with the crumble topping. It's playful and funny, and I'm tempted to ask for more, which would be a first for this veg-phobic writer.
Smyth's pièce de résistance is the magnificent "Core-teser." As the name implies, it's a deconstruction of the popular Maltesers candy to create a dish so awesome that apparently the God that is Pierre Kaufmann once Instagrammed his appreciation of it. The chocolate sits on the bottom while melt-in-your-mouth malt wafers billow above like Little Richard's bouffant circa 1956, feathers of chocolate having floated down on top. It is my favourite single dish of the year after Brat's magnificent whole turbot. Sensational.
The sommelier team is led by the excellent Gareth Ferreira MS, ex-67 Pall Mall. Upon arrival, he kindly pours a glass of Krug Grand Cuvée 166ème Édition, based on the 2010 vintage and blended from 13 harvests from 1998 onwards. It is the perfect way to begin. The nose of vibrant citrus fruit, brioche and yellow flowers is slightly yeasty in style but beautifully defined. That yeastiness transfers across to a weighty but balanced palate, which offers depth and grip with a bit of viscosity, and richness reined in by acidity. A touch of orange zest and hazelnut emerges on the finish, along with sufficient salinity to urge you back for another sip. The 2011 Bockenauer Felseneck Riesling Spätlese is from Schäfer-Fröhlich, one of my favourite growers in the Nahe. Ferreira advises that some bottles have shown a bit of CO2, and indeed there is a slight spritz, but nothing to put you off. The 2011 displays a little more residual sugar than expected, not Auslese in style but not far off. The bouquet delivers passion fruit, lychee and subtle walnut aromas that are not subtle, but clean and pure. The palate is viscous on the entry and quite weighty at first, although the acidity is well judged, and it seems to gain more tension with aeration, culminating in a spicy finish.
Duck and red grapes, thyme, honey and Timut pepper

We move to Bordeaux for the red. The 2013 Clos du Jaugueyron comes from the 3.4-hectare Haut-Médoc part of the estate rather than from the Margaux appellation. The vines here are farmed biodynamically. This has an open, slightly green but fresh bouquet, rustic yet charming, with hints of black tea and bay leaf. The palate is light but balanced. It feels a little angular, but I appreciate the easygoing cedar- and tobacco-stained finish. We finish with the 2014 Vin de Constance from Klein Constantia, which shows identically to the bottle tasted in the Cape earlier this year. The bouquet bursts from the glass with marmalade, honeysuckle, orange rind and tropical fruit, all beautifully defined, if perhaps just a little waxier than I recall. The lively, viscous palate presents layers of fresh apricot, honey and orange zest, leading to a precise, vibrant finish. I love the chutzpah of this Vin de Constance, and though it will age, I do not begrudge anyone drinking it now.
"The other carrot"

So, everything about Core is perfect, yes? No.
Allow me to rant…
Core's major black mark is the markup on the wines. The list is well chosen and covers the classic regions competently, though I would not describe it as adventurous. Prices are neither here nor there if you are a well-heeled hedge fund manager living round the corner, but to those that are cognisant of price and quality, some of these markups detract from the dining experience. For many, wine is a crucial part of that experience.
Let me go further. If a restaurant wants to extract as much money as possible via its wines to help underwrite the cost of operations, then I understand that. You do whatever is necessary, even if I wish such a policy could be avoided. However, at least give wine-lovers, not label-hunters, a few affordable crumbs. Choose an eclectic wine region that wine snobs would avoid, a place where oenophiles are not going to be bled dry. The night before my meal at Core, I spent a good hour analysing the list and found just a couple of decent German Rieslings that offer some pecuniary respite, and morsels from South Africa and northern Spain. But for those who like Bordeaux or Burgundy? A 2014 Puligny-Montrachet from Alex Gambal is £140 and a 2015 Bourgogne Rouge from Jean Grivot will set you back £100. You will not get much change from £400 for a 2001 Lynch-Bages; a 2005 Haut-Bailly comes in at £340. One can argue that release prices are more expensive than they used to be, and that that ineluctably nudges up prices, but it is not difficult to work out the multiples on those figures.
"Core-teser" (chocolate, malt and hazelnut)

Even if the wine list intends to punish wine-lovers, many restaurants operate a policy that allows occasional BYOs to regulars, especially those observing etiquette by ordering from the list as well. Permit oenophiles to bring expensive or rare bottles that deepen sommeliers' experience. Use it as an incentive for people to dine on less busy days (not that I envisage this to be a problem at Core). Without doubt, restaurants that are flexible have benefitted both financially and in terms of goodwill from oenophiles who would otherwise go elsewhere. Ramsay's restaurants have long operated a stringent anti-BYO policy – no exceptions. That is a great shame. The best food should be partnered with the best wine. Maybe someone ordering a First Growth because it is expensive makes the chef happy because it pays their staff's wages; however, is it really appreciated? Maybe that doesn't matter to anyone apart from the sommeliers. I ask two questions. First, how would the chef feel if the only reason people chose their restaurant is that they wanted to be seen dining at an expensive place? Because that is how many approach the wine. And second, how would the chef feel if the roles were reversed and diners had to pay £500 for a main course and £30 for the wine?
In the end, I dined at Core for the food and forsook what I would really have liked to drink, instead ordering two bottles that were cheap but good, since I have no intention of busting Vinous's expenses. Yes, the wines passed muster and I appreciated that a couple of glasses landed on my table gratis. Yet the hefty final bill would suggest that I had imbibed grander fare. That's just the way it goes.

Core by Clare Smyth is out of this world in terms of culinary excellence. The service is impeccable and friendly, with what feels like several waiters permanently at your disposal. On the way home I relived every dish, savouring every morsel one more time and wishing all my friends could have shared that same gustatory experience. Yes, it is expensive, but the quality is evident on the plate. (The only reason it doesn't deserve three stars is that Brett Graham at The Ledbury has long been first in that queue; it's unfathomable why Graham has not been given that third star, but that's another story.) But be warned: apparently Smyth has a tendency to constantly change the menu, forever seeking to go one better, swapping and modifying dishes, so this review might already be out of date by the time it's published. As I said at the beginning, this restaurant has ambitions.
Final word: Give us wine-lovers a break, will you?
Producers in this Article