Browse using the new Vinous website now. Launch →
Printed by, and for the sole use of . All rights reserved © 2015 Vinous Media
La Barrique
Via del Boschetto, 41B
00184 Roma, IT
Tel. +39 06 4782 5953
BY IAN D'AGATA | MAY 16, 2019

The Food:
Tongue with salsa verde (Lingua in salsa verde)
Veal sweetbreads with potatoes and sage (Animelle di vitello con patate e salvia)
Chickpea cream with sesame and roasted octopus (Crema di ceci e sesamo con polpo verace arrostito)
Meatballs in sauce (Polpette al sugo)
Creamed salt cod and bell peppers au gratin (Baccalà mantecato con peperoni gratinati)
Lamb and green salad (Agnello e insalatina verde)
The Wines:
| | |
| --- | --- |
| 2017 Ciro Picariello Fiano di Avellino | 90 |
| 2017 Fernand Engel Sylvaner Réserve Alsace | 91 |
| 1976 Benedikt Loosen-Erben Ürziger Würzgarten Riesling Auslese | 94 |
The snug and cozy interior at La Barrique

One of Rome's best osterie, La Barrique is located in the city's trendy Monti quartiere, an area teeming with good-quality, easygoing and generally quite cozy dining establishments. Conveniently located near theaters and the Opera, La Barrique is a haven of well-cooked, simple but delectable traditional recipes made from high-quality ingredients. The small dining room has an endearing, warm vintage feel, featuring wood panels, blackboards announcing the day's dishes, brass lamps, wood tables and chairs, shelves loaded with bottles from all over, and a wooden bar at the entry where locals like to hang out and have a glass of wine (or two) while you and others eat at the small tables. It all adds up to a warm, homey feeling, not unlike that of a brasserie in the Marais or a small Italian countryside trattoria, making for a relaxing evening that you'll find yourself wanting to come back to again and again.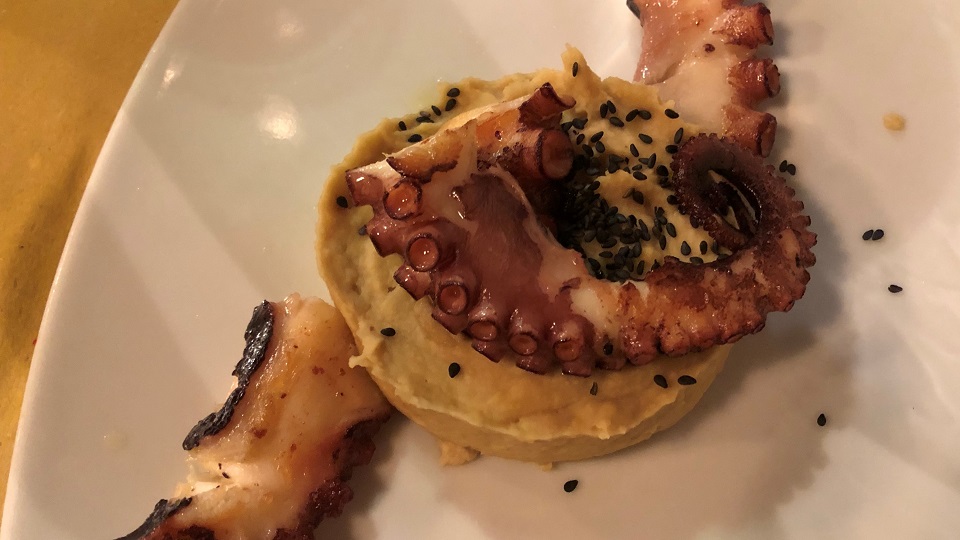 Chickpea cream with sesame and roasted octopus

The menu at La Barrique is not vast (about five or six antipasti, three pastas, six or seven entrées; the lunch menu is even more compact) but hits plenty of high notes. There are no examples of technical wizardry or culinary inventiveness to be found here, but it doesn't really matter, because that's not what you come here for. And besides, just about anything you order will seem like it couldn't have been cooked any better. For example, I eat a ton of octopus, a personal staple that I never tire of. And yet I cannot remember having had a better grilled octopus dish all year long than La Barrique's rendition. Sweet and deep in its flavor profile, with good spring to its texture, the octopus meat was marvelously complemented by a suave chickpea cream that added a welcome hint of leguminous sweetness to the charbroiled flavors of the octopus. Decent meatballs are hard to find nowadays in Rome (your chances increase on Thursdays, when old traditional-minded restaurants tend to make them) but La Barrique's are perfectly rendered, accompanied by a delicious sweet and tangy tomato sauce that is an invitation to break out the bread and clean up your plate (go ahead; nobody at La Barrique will mind, mainly because they'll be too busy doing exactly the same thing). My lamb, creamed cod and veal sweetbreads were just as good and flavorful as everything else I tried on this night.
Lamb and green salad

One can drink extremely well at La Barrique, thanks to the many wines from Italy and abroad chosen with real acumen by owner Fabrizio Pagliardi (who opened La Barrique with a couple of partners and his niece Arianna only a decade ago or so) – and even better, without having to spend an arm and a leg. If bubbles are your thing, you'll find that, just like almost everywhere else in Italy nowadays. There is an excellent selection of grower Champagnes to choose from. For lovers of natural wines, there are plenty of those on the list, too.
I opted to go with white wines from three of my favorite wine regions in the world (Campania, Alsace and the Mosel) and could not have been any happier with the beauties that graced my glasses. The 2017 Ciro Picariello Fiano di Avellino is its usual brilliant lemony, mineral self, though in a warmer, slightly richer style than normal because of the radiant 2017 vintage. Also blessed with a few octanes more than is customary, the 2017 Fernand Engel Sylvaner Réserve Alsace showcases this underrated grape variety, one that gives a whole gamut of different wines, from brightly acidic and fresh, to rich and ripe in a late harvest mode. This one is an absolutely lovely, easy-to-drink example of a Sylvaner wine that boasts sneaky complexity and density of quince, chamomile, white peach and mineral aromas and flavors. Last but not least, the 1976 Benedikt Loosen-Erben Ürziger Würzgarten Riesling Auslese is a work of art. From a relatively warm vintage that gave many amazing wines that drank splendidly early on but didn't necessarily age as well as one expects from Mosel Riesling, this one is in no danger of falling apart anytime soon. Characterized by an amazingly steep slope and red volcanic and slate soils, Ürzig's Würzgarten vineyard gives some of the Mosel's spiciest, earthiest tropical-fruit-infused wines. This Auslese magically combines rapier-like acidity and honeyed sweetness, and it's presently one of the best-drinking wines I've tried in some time.